OPV discharge anti-spill valve
AutoLimiter® Automatic Discharge Spillage Valve is an independent two-stage forward closure valve designed to prevent the overflow of underground storage tank (UST) discharge during gravity oil delivery.
Service Station Equipment
---
AutoLimiter® II automatic overflow valve for oil unloading
The AutoLimiter® Automatic Discharge Overflow Valve is a stand-alone two-stage positive shut-off valve designed to prevent overflow from underground storage tank (UST) discharge during gravity oil transfer. When the liquid level of the underground tank reaches about 92% of the tank's capacity during unloading, the oil in the tank raises the valve's stage 1 low float. Therefore, the main poppet valve of the oil discharge anti-overflow valve starts to work, reducing the discharge flow to about 10% of the normal oil discharge volume. A sudden drop in flow caused by the main poppet closing can cause a "line shock" to the unloading line and notify the unloading truck driver that the tank is approaching 95% capacity. The unloading truck driver will then stop unloading the oil into the tank, disconnect and drain the oil from the unloading pipe. The stage 2 high float will shut down the discharge when the oil level reaches 95% of the tank's capacity.
advantage
Spring-loaded secondary shut-off baffles reduce line impact
Vertical floating body design allows the valve to be removed even when the tank is full
Check the test port
The bottom of the pipe is threaded
Installation
AutoLimiter® II is designed for underground tank applications. Applies to gravity discharge only. Do not try to use this product in above-ground storage tanks, otherwise the valve will not work and lead to a very dangerous situation.
EVR Phase 1 models require the T-6100-FT installation tool.
Ordering Information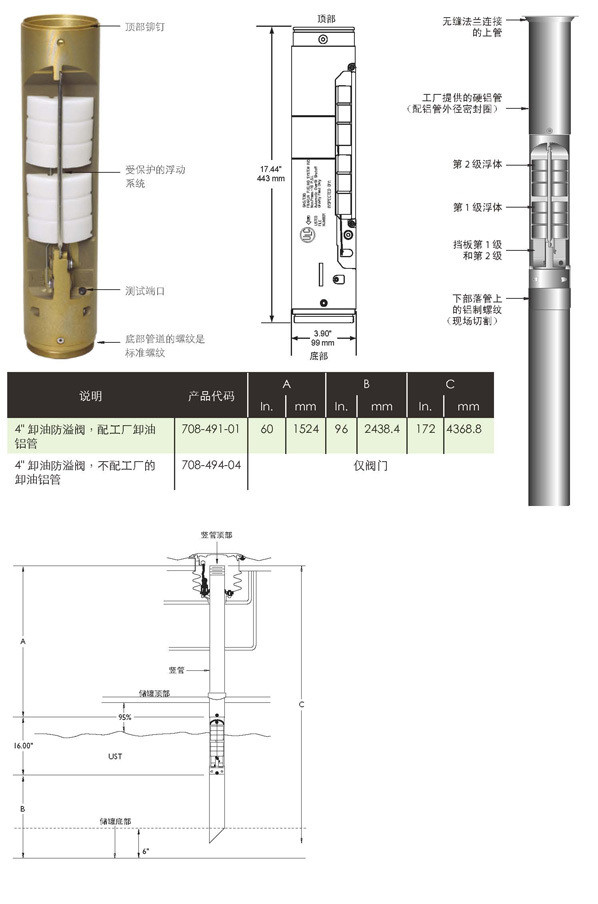 *Note: Please be sure to fill in the information accurately and keep the communication unblocked. We will contact you as soon as possible