Small oil tank cleaning service
---
One-stop service for cleaning small refined oil tanks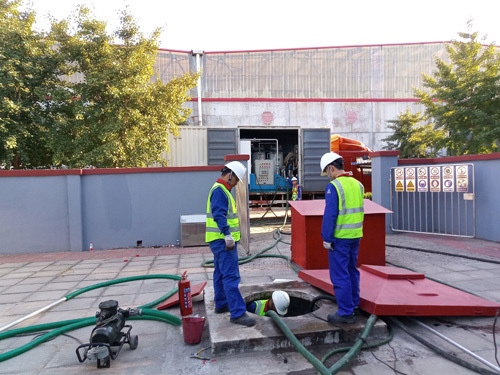 Scope of work:
- ≦ 100m3 gas station tank (gasoline, diesel, kerosene, etc.) cleaning;
- ≦ 300m3 vertical oil tank (gasoline, diesel, engine oil, gear oil, lubricating oil, base oil, additives, etc.) cleaning;
- Cleaning and purging of oil pipelines of various specifications;
- Installation, plugging, dismantling and other engineering services of oil tanks and pipelines;
- Installation and maintenance services for tank related mechanical and electrical equipment
(such as oil pumps, level gauges, pipeline leak detectors, etc.).
Vanpek has petrochemical engineering service general contracting and tank cleaning qualification certificates, the engineering team has several builders, a number of safety production management personnel and more than 40 cleaning techniques with more than 5 years of experience in tank cleaning.
Vanpek adopts the self-developed intelligent VTC-200R oil storage tank "the king of 3D tank cleaning", efficient low-pressure circulating water jet technology, which can completely remove the dirt such as oil and sludge in the tank, improve the cleanliness and cleaning efficiency, minimize the operator's operation time into the tank, and ensure the safety of operation. Since 2010, it has been providing one-stop tank cleaning services for service stations across many regions of China, including Beijing, Tianjin, Hebei, Shandong, Shaanxi, Shanxi, Xinjiang, Henan, Yunnan and Zhejiang.
Service case:
Mechanical cleaning of oil tanks in Yunnan Sinopec Gas Station
Mechanical cleaning of oil tanks in Beipai Group Gas Station

Address: Floor 4, Unit 3, Building 2, Yard 18, Jingxing St., Changping, Beijing, China